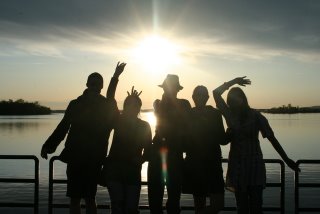 We are such big believers in groups! In fact, if there is one word we would use to describe Access Church, it's "relational."
We actually believe that Sunday services are just the first step to our ultimate goal—being part of a small group with other couples or singles.
Why are we so passionate about this? Well, to quote author & psychologist Larry Crabb, "Lasting life change is the result of truth applied in the context of relationship." So, it's one thing to sit in church and listen to a message that helps us better understand the Bible, but it's a much bigger step to develop relationships with people who are challenging us to apply that message in our daily lives.
Access Church will launch a major campaign to involve everyone in the church in small groups this October. Many of us can't wait! But some of us have never been in a small group, and it sounds a bit intimidating.
So, here's a risk-free trial offer, good for a limited time!
For the next several weeks we are offering two groups for couples and one for singles. Each group will meet on our off-Sundays at 6:00pm. Each group will meet five times. Each group will cover the same material, based on Andy Stanley's series, "The Sinai Code."
Choose a group near you. Commit to it for five sessions, and attend every week that you're in town. Meet some people, study the Bible, and maybe even contribute to the discussion (not necessary).
At the end of the five sessions, you'll have a better idea of what our groups look like and hopefully you'll look forward to our fall launch of community groups as much as the rest of us!
Click here for a Google Map with directions to the group nearest you! Go ahead, click now. The first meeting is this Sunday evening (July 22) at 6:00pm! No registration is neccessary. Just show up!
Groups will meet for about 90 minutes. Childcare reimbursement is provided.