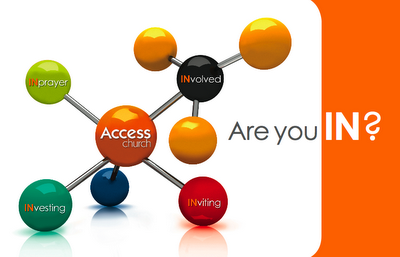 Recently we spent some time on a Sunday morning asking the question, "Are you IN?"
The premise is simple. Access church began with a group of people praying that God would do something amazing in Jacksonville. Then, that group of people began to give from their income—to a church that didn't even have a name or a staff, yet! Then, they volunteered to create environments that would introduce people to God. Finally, they invited friends and loved ones to experience Access Church.
Those four elements aren't just our history—they are our future as well! They are the foundation of our church, and if we took any one of them away, we would cease to be the same.
So, we're inviting those of you who've joined the mission of Access Church in the last year or so to jump IN, as well. Here is the commitment we're asking for:
Pray regularly (you decide how often) for the leadership, ministries, and impact of Access Church.
Give a priority percentage (you decide what that is) of your 2008 income to Access Church.
Jump in at the point of greatest need on a strategic service team at Access Church.
Invite people in your life who might benefit from developing intimacy with God and community with others to Access Church sometime this summer.
Are you in? If so, you can download a pledge card here and turn in on a Sunday or drop it in the mail. We'd love to know we can count on you!