The Andrews Family – Friends & Faith
Kate and Rob Andrews and their son, Jake, started attending Access in October 2017 when a friend invited them. The Andrews had recently moved back to the Jacksonville area because of Rob's job. Jake was about to start high school when they moved, and they wanted to find a church where they could meet people in their new community and where Jake would be exposed to faith.
Kate said finding a church home in the past had been difficult. "As we moved around and settled into new places, we felt like outsiders when trying churches," Kate said. "We were turned off on the whole process. But when we walked into Access, it was the complete opposite of all the experiences we had in the past. We felt so welcome, and everyone made sure we knew what to expect."
The Andrews family immediately loved the messages at Access. "The first time we attended, we were blown away by Andy's message," Kate said. "It was a practical message we could apply to our lives without having to be Bible scholars to decipher it. I remember having a discussion about the message with Jake on the way home in the car. How cool is that!?"
Kate and Rob quickly learned that the best way to make friends at Access was to join a community group. They were hesitant to join a group at first because they were returning to church after a long absence, and they were afraid they would feel out of place and embarrassed at their lack of Bible knowledge. Kate said they could not have been more wrong. "Having a group who shares a common belief makes it easier to begin and build relationships," she said. "Our community group is an amazing mix of people we wouldn't have met otherwise, and our lives are so much richer for it. We can share our triumphs and struggles and know they will be beside us, supporting us, and most importantly praying for us."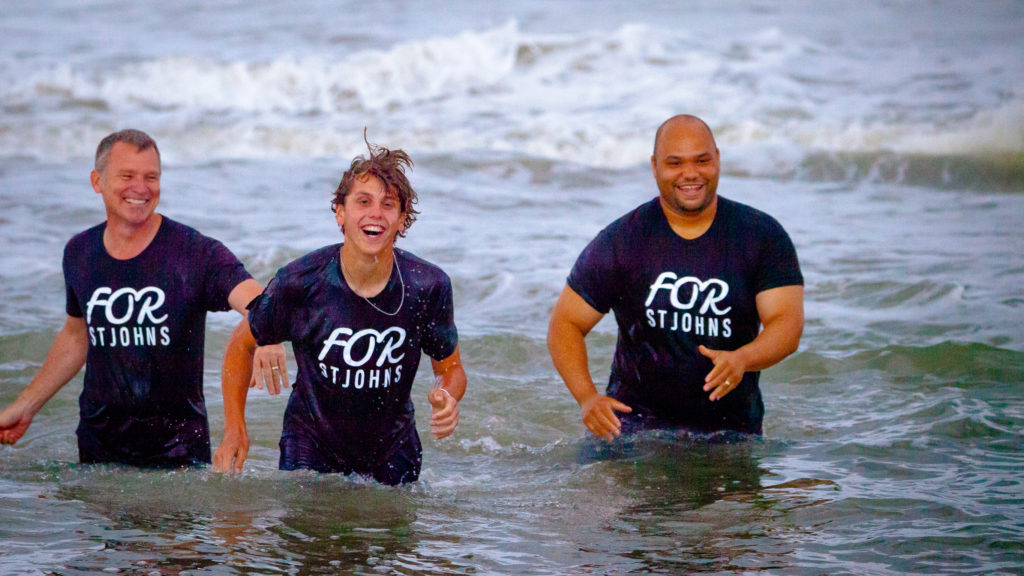 Besides being a place where they could meet people, Kate and Rob also wanted their new church to be a place where Jake could grow in faith. "Access has so many opportunities for teens to be involved and active," Kate said. "It has been a game changer for Jake in his spiritual growth. He was baptized this past spring, and just recently he told me he scheduled off work on Sunday mornings because he missed being at church."
Kate and Jake went on a missions trip to Costa Rica together over the summer. It was a life-changing experience for both of them, and they can't wait to return next year. "Watching my son carry around a young boy on his shoulders while playing chicken in one of the poorest neighborhoods in Costa Rica, and seeing the smile on both of their faces, was amazing," Kate said. "Being able to see Jake grow in his faith and give his testimony has been incredible."
The Andrews are thankful for the church home they found at Access, not only for the community group connections that are so important to Kate and Rob, but also because of the impact they've seen in their home and in Jake's life. "Access has made Jesus and faith in God part of our everyday conversations," Kate said. "I know this focus on God will guide Jake into the next chapter of his life when he heads off to college next fall, and I'm so thankful for that."
Through the generosity of those who helped launch Access in St. Johns County, the Andrews' faith has become personal. You can help others find a personal faith by supporting the vision at ItsPersonal.church.