The Importance of Good Navigation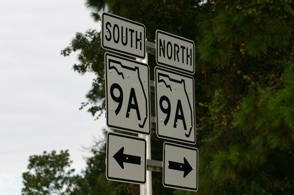 I heard a story recently about a couple that purchased a GPS for a trip across the country to see friends. For nearly 1,000 miles this little unit sat on their dashboard and flawlessly directed them toward their destination. The only problem came when they were literally within sight of their friends' house. The little GPS insisted they continue 500 feet to their friends house on the left.
But the GPS offered no suggestions on how to cross the creek that lay between them and their friends.
Navigation is every bit as important as destination. This is true in life, too. It's not enough to know where you want to go in life. You have to know how to get there.
There's a place in Atlanta where northbound traffic splits into Interstates 75 and 85. One year, returning from spring break, my friend Wendell pulled up in the lane next to me to signal that he needed to stop for gas. I tried to signal back that he was in the wrong lane. He looked up to see the sign too late, and in an instant was headed for Greenville instead of Chattanooga.
Yeah, navigation matters.
Perhaps this has happened to you, even in your career, or your marriage, or with your children or your business. Where you say, "Honey, if we want our kids to end up like this, we'd better start implementing some changes in our home, now."
You recognize this truth in your career, right? If your goal is to work in entertainment industry, interning for a construction company probably isn't the best path to start on.
It's even more important for an organization to know, not only where it wants to end up, but exactly how it's going to get there. We've all been a part of an organization or a movement that has lost its way. Perhaps you've been a part of something, and you've realized these are good people. They mean well. They know where they want to go. They just don't know how to get there!
Thankfully, when Jesus left this earth he made it perfectly clear what our destination is. In fact, he wrote our mission statement for us.
In the final chapter of Matthew's account of his life, he gathers his disciples together, and he has a few words left before he leaves them behind and goes to be with the father.
He said, "All authority in heaven and on earth has been given to me. Therefore go and make disciples of all nations, baptizing them in the name of the Father and of the Son and of the Holy Spirit, and teaching them to obey everything I have commanded you. And surely I am with you always, to the very end of the age."
It's his last chance to speak to them, to summarize the last three years into one command. He boils it all down to one thing. There is one imperitive verb, and three participles which help that verb. "As you are going…" MAKE DISCIPLES.
That's it. That's our purpose as a church. That's our destination.
So the big question remains: How are we going to get there? What is our strategy? Do we have a road map?
Yes, we do. Tomorrow we'll talk about it. Join us Sunday as we explore what God has called Access Church to accomplish in this community. It's challenging and exciting!
See you there!