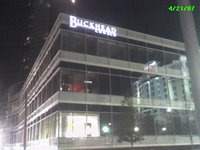 Kevin, Ben, and I are in Atlanta for a few days, reconnecting with the North Point team. It's already been so encouraging to hook up with friendly faces and be reminded of why we love to be a part of this organization.
We took a little stroll from our hotel last night and checked out the new Buckhead Church facility, which opens two weeks from today. It looks awesome!
This morning we rose at 5:30am to be here in time for production meetings and to get Kevin settled in with a headset so he can hear all the production cues. In a couple of hours, we'll duck out and run over to Athens Church for their 11:00am service, then back to Alpharetta to help set up for Married Life LIVE tonight. It's gonna be a great day!
Monday we'll meet the whole NPM staff (all three campuses) at Buckhead for a staff meeting and then spend the day helping the Buckhead staff move into their offices and environments. A few meetings on Tuesday and then back to Jacksonville on Tuesday evening. See ya' then!